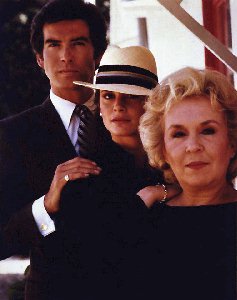 Remington Steele
Season Two
Second Season
Steele Away with Me (Part 1 & 2)

An IRS fraud investigator (Doris Roberts as Mildred Krebs) uncovers agency tax return irregularities while Laura and Remington are in Mexico to determine why a man with a diamond-filled fish turns up dead in Laura's living room.

Red Holt Steele

Corporate hit men take their jobs much too seriously.

Altared Steele

A client with amnesia hires Remington and Laura to uncover which one of five wives is out to kill him. Delta Burke co-stars

Steele Framed

Steele accidentally runs down the client he was supposed to meet after a mysterious telephone call.

A Steele at Any Price

Priceless pictures are not what they seem.

Love Among the Steele

Laura and Remington solve the mystery surrounding an exotic Auburn speedster through the secrets of its past owners.

Scene Steelers

Trouble in paradise on a TV commercial set.

Steele Knuckles and Glass Jaws

A baby found in a gym locker has connections to the mob.

My Fair Steele

It's double trouble for Remington and Laura when the agency is hired to locate the twin of a missing heiress.

Steele Threads

Laura poses as a model and Remington a seedy wholesale buyer as part of their investigation into fashion industry espionage.

Steele Eligible

Steele is selected among ten bachelors to be the focus of a promotional magazine and the target of a murderer.

High Flying Steele

Step right up and see Laura and Remington in a high-flying trapeze show.

Blood is Thicker Than Steele

A mobster testifying for the government grabs Mildred forcing Remington and Laura to guard his children on their way to Phoenix.

Steele Sweet on You

Laura follows her brother-in-law to a dentist's convention where more takes place than oral hygiene.

Elegy in Steele

Major Descoine is back, paying a unexpected call on Laura and Remington with a threat to end their lives before the strike of noon.

Small Town Steele

Small town living at its worst.

Molten Steele

Dreams of Steele

Day Dreams abound as Steele is hired to protect precious Royal Lavulite gems but winds up accused of their theft instead.

Woman of Steele

A woman from Remington's past (Cassandra Harris as Ana) returns to haunt him.

Hounded Steele

A cat burgular with a hound instead.

Elementary Steele

Sherlock Holmes and Doctor Watson chase a would-be singer.
Cover Page || Season One || Season Three || Season Four ||The Fifth Season ||