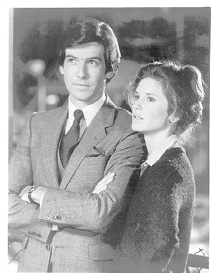 Remington Steele
Season Four
Fourth Season
Steele Searching, part I

Thinking their relationship ended, Remington travels to Europe in search of his true identity.

Steele Searching, part II

Remington agrees to help Charlmers and Felicia in an assassination plot against an Earl, unaware the intended victim may be his own father.

Steele Blushing

Laura's revealing photograph turns up in a sleazy magazine, prompting Remington to investigate the case she's secretly working on.

Grappling Steele

A pro wrestler asks Laura and Remy to sift through suspects who want him permanently out of the ring.

Forged Steele

Following a memory lapse, Remington learns he lost the agency betting at an all-night poker game.

Corn Fed Steele

Remington could lose his recent investment unless he solves the mystery behind the disappearance of purebred pigs in Iowa.

Premium Steele

While struggling with his VCR, Remington trys to learn why a death certificate was filed for a living garlic farmer.

Coffee, Tea or Steele

Laura poses as a stewardess to discover who left a corpse among the baggage at Platinum airlines.

Steele on the Air

Laura and Remington set out to solve a murder mystery while Mildred masquerades as a talk therapist at radio station 14-KROT.

Steele Inc.

George Mulch (Michael Constantine) creates havoc by hiring a bogus Steele and selling Remington Steele Investigation franchises.

Steele Spawning

A wealthy caviar importer's bungling son asks Remington and Laura for help out of a scrape with the Soviets.

Suburban Steele

Laura investigates her sister's call to report a corpse in her kitchen.

Steele Blue Yonder

Remington and Laura follow an old war pilot whose daughter thinks has gone off the deep end.

Sensitive Steele

Laura and Remington join an encounter group to solve the mystery behind health spa mishaps.

Steele in the Spotlight

Steele Investigations is hired to find an actress who disappeared 30 years ago.

Steele at Your Service

Remington goes undercover as a butler to solve the mystery of a murdered servant.

Steele in the Running

Two men kidnap Laura at a biathlon after a desperate woman switches their race numbers.

Beg, Borrow or Steele

"Loved ones" mourn while Laura and Remington find out who planned their shot gun execution.

Steele Alive and Kicking

An escaped convict hires Steele Investigations to prove he framed himself for the murder of a health club owner.

Bonds of Steele

A secretary secretly hires the agency to investigate her boss's murder but Remington has secret plans of his own.
Cover Page Season One || Season Two || Season Three ||The Fifth Season ||